Easy, Comprehensive, Trustworthy. MVP Serves You Best.
Managing a commercial business keeps you busy. That's why we make it easy for you to hire a professional landscaping company that will care for your landscape all year long. MVP Snow n' Lawn is a locally-owned and operated landscaping company with its roots in Rocky River, Ohio. Our proximity to Westlake, Ohio makes MVP the right company for your retail business, industrial company, apartment complex, HOA, or other commercial space. We cover all aspects of landscaping, including lawn care, design, installation, maintenance, and snow removal. Our hometown values have gained us a reputation for honesty and integrity, which ranks us above the competition.
We commit to high-quality workmanship on every landscaping project we tackle. Our crew is composed of top-level landscaping employees who understand the values of respect and hard work. Each day we run through our safety priorities because we believe in putting safety first for our employees and for our customers. Our professional landscaping equipment is kept clean and properly maintained, and our workers are always uniformed and ready to greet you with a smile.
The biggest reason you can count on MVP is our dedication to customer service. We work until you're happy with our service. We always want to leave your landscape looking tidy, healthy, and well-cared-for. Other commercial landscaping services might promise you a beautiful landscape, but then they don't show up on time, or they go back on their agreement. MVP takes each customer's needs seriously. We will show up on time, and we will give you the quality service you deserve.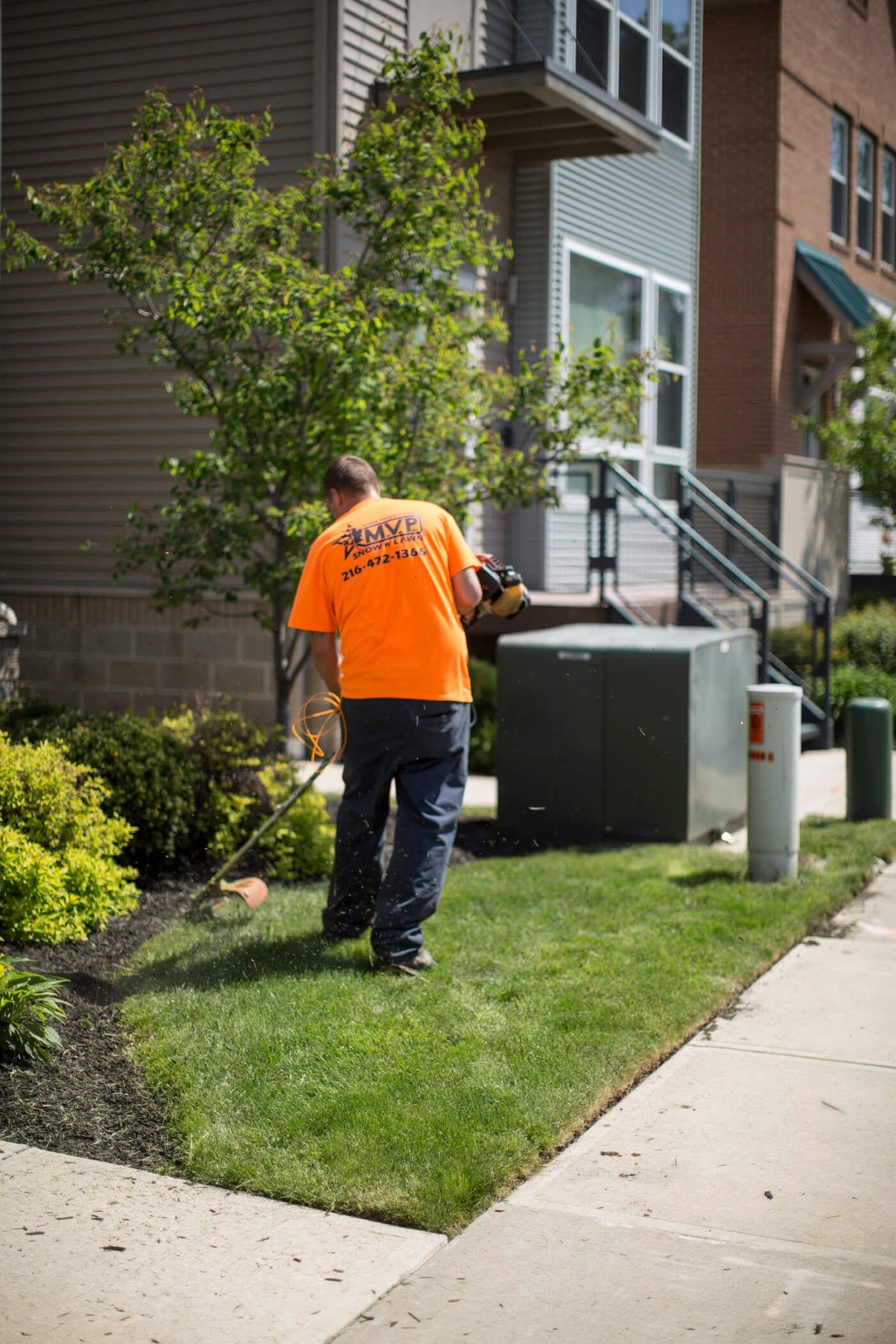 Take It From Our Customers: We Know Commercial Landscaping!
The best way to get to know us is by listening to what our customers have to say. We have been landscaping commercial properties in Westlake and surrounding areas since 2011. We manage quite a few of these properties year-round, including some larger HOAs and apartment complexes. Our customers keep renewing their landscape management plans because they see the results of our care. We are committed to serving you, and that commitment involves attention to big things, such as communication and timeliness, and little details, like cleaning grass clippings off your sidewalks and shoveling the snow right up to your doors.
Our Westlake, Ohio Landscaping Services are Comprehensive
It's easy to see how a comprehensive landscaping company is going to save you time and money. MVP Snow n' Lawn is willing to take over the complete management of your landscape. You don't have to worry about hiring a different company for lawn mowing or mulch blowing. At the same time, our plans are customized, which means you don't pay for services you don't need. An MVP plan is truly a great investment. Our commercial landscaping services include:
Beautiful Results on Commercial Properties in Your Area
A great-looking landscape adds value to your property. Your landscape is often the first impression a person has of your business, so it's important to keep it maintained and healthy. Is your current commercial landscape a patchy, boring mess? No problem. We can take existing landscapes and transform them so they are lush, healthy, and appealing to the eye.
Snow Removal and Ice Management At Your Service
When winter comes to Westlake, you know you're going to get snow. Westlake, OH averages 53 inches of snow a year, thanks to the lake effect snow coming down from Lake Erie. MVP takes all that snow and gets it out of your way. We have the right heavy-duty equipment to plow out our commercial customers' parking lots and driveways all winter long. As for ice, we take care of that for you, too. We give our commercial customers priority, which includes apartment complexes and HOAs. Not only do we plow, our snow removal team also shovels out sidewalks and walkways, right up to your doors. This winter, let us handle the snow and ice.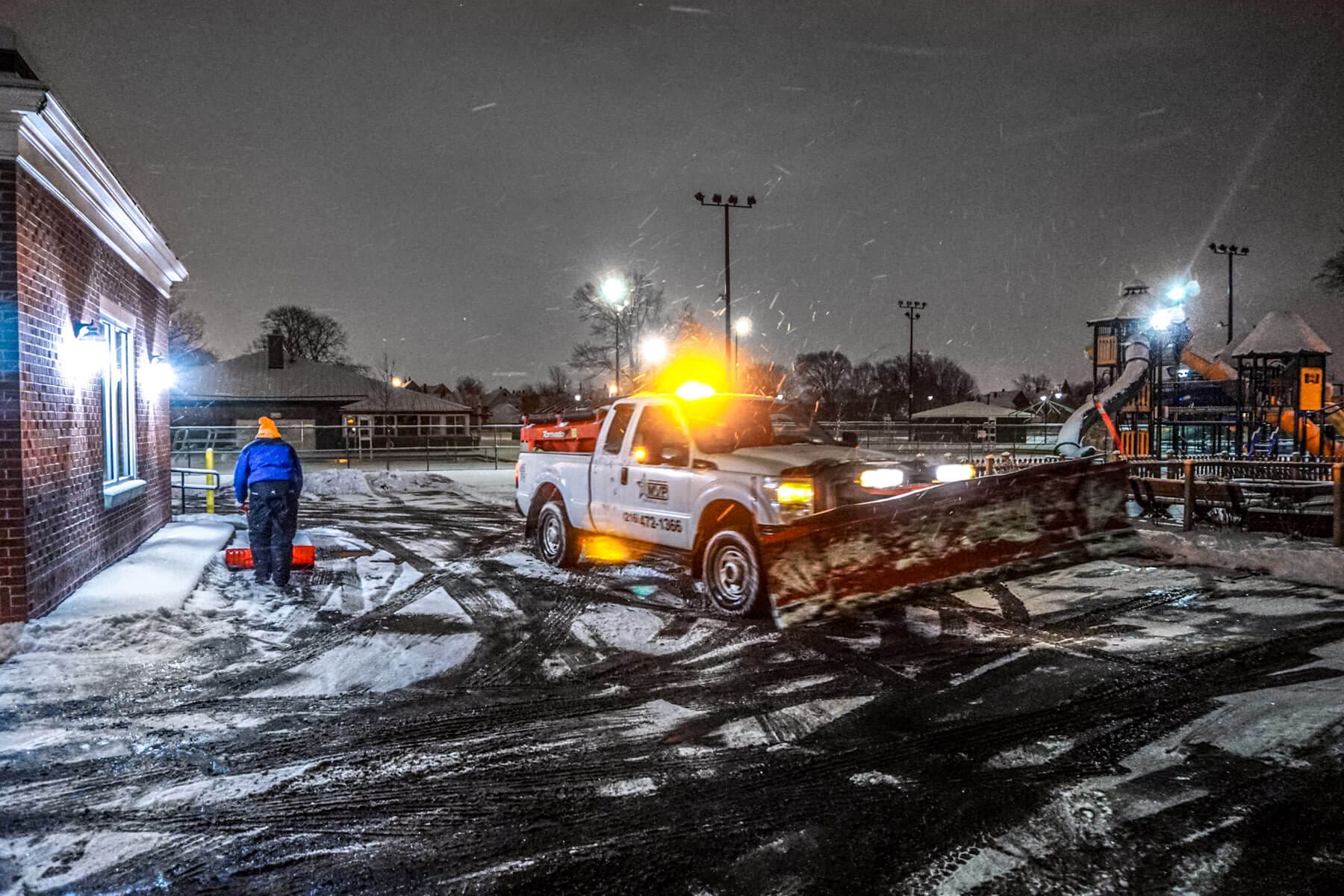 MVP Snow n' Lawn manages both commercial and residential landscapes. Our main office is located in Rocky River, Ohio, but we have a wide area of customers in the Cleveland area, especially to the west of Cleveland. Our commercial landscaping management services extend to these cities:
Check Out a Career in the Landscaping Business!
MVP offers a friendly team environment and good, old-fashioned outdoor work that lasts all year long. If you're interested in a career with us, please look at our Career page to see our current job openings.
Schedule Your Free Consultation Today
If you're looking for quality landscaping services in Westlake, Ohio from a reliable company, your search is over! Fill out our online form, or give us a call. We'll set up your free on-site consultation. We look forward to learning more about you and your landscape needs.