We Manage Your Landscape so You Can Manage Your Business
Commercial business owners in the Cleveland area need to be able to multitask in order to get everything done. MVP Snow n' Lawn is here to take one element of your job and make it simple for you. We manage commercial properties of all sizes across the area, covering all aspects of lawn care, landscape design, landscape installation, seasonal decor, and snow and ice management. Why hire multiple lawn care services to do the jobs that our team can take care of effectively under one landscape management plan?
You can count on the MVP team to show up on time with clean vehicles, uniformed workers, and friendly faces. We stress the importance of respect and safety in all our tasks. We want to leave your property looking better than it was before we came, and we will work hard to make a positive difference in every single landscape we work on.
We proudly service areas west of Cleveland, including Rocky River, Ohio. Since 2011, we have had experience designing and installing landscapes for new commercial developments, as well as redesigning older landscapes for an updated look. Our popular commercial landscape maintenance plan helps numerous businesses, apartment complexes, and HOAs in the area keep their lawns, garden beds, and trees looking neat and healthy during the entire growing season. In the winter, we offer invaluable snow and ice management services so you don't have to run to the phone every time a winter storm dumps snow on your parking lot and walkways. Peace of mind is a precious commodity, and we promise to keep our end of the agreement so you can be at peace about the state of your commercial landscape.
Learn Why More Businesses, Apartment Complexes, and HOAs Hire Us to Manage Their Commercial Landscapes
Our key values are respect, hard work, and safety. Our employees understand that you want more than a nice lawn. You want the assurance that your lawn is going to be taken care of on time, your garden beds will be tended, and your trees and shrubs will be assessed for proper health. If you hire us for a new landscape design and installation, then you want to know that you are hiring professionals who understand the process. You want to feel secure in your choice to hire us. That's why we point back to our years of experience and the amazing relationships we have established with our past and existing customers. Please read our reviews to get a better feel for the way our company operates.
We Bring Professional Experience to Your Commercial Landscape in the Cleveland Area
Communication is another top priority in our business. Our customers have direct access to the owners of MVP, so that you can express your concerns, and we can let you know when and what we will be doing. This is part of the way we respect you and your property. Our landscaping services are under the direction of hard-working, dedicated individuals who train their employees to take care of properties in a consistent, safe manner. Our commercial landscaping services include:
See the Results of Consistent Landscape Management
Our commercial landscape management plan takes into account everything your landscape needs to look its best every single day. Take a peek at our Portfolio page to see how impressive a well-tended landscape can look. Imagine how we can improve your commercial landscape!
Lake-Effect Snow Won't Stop Us from Keeping Your Customers and Residents Safe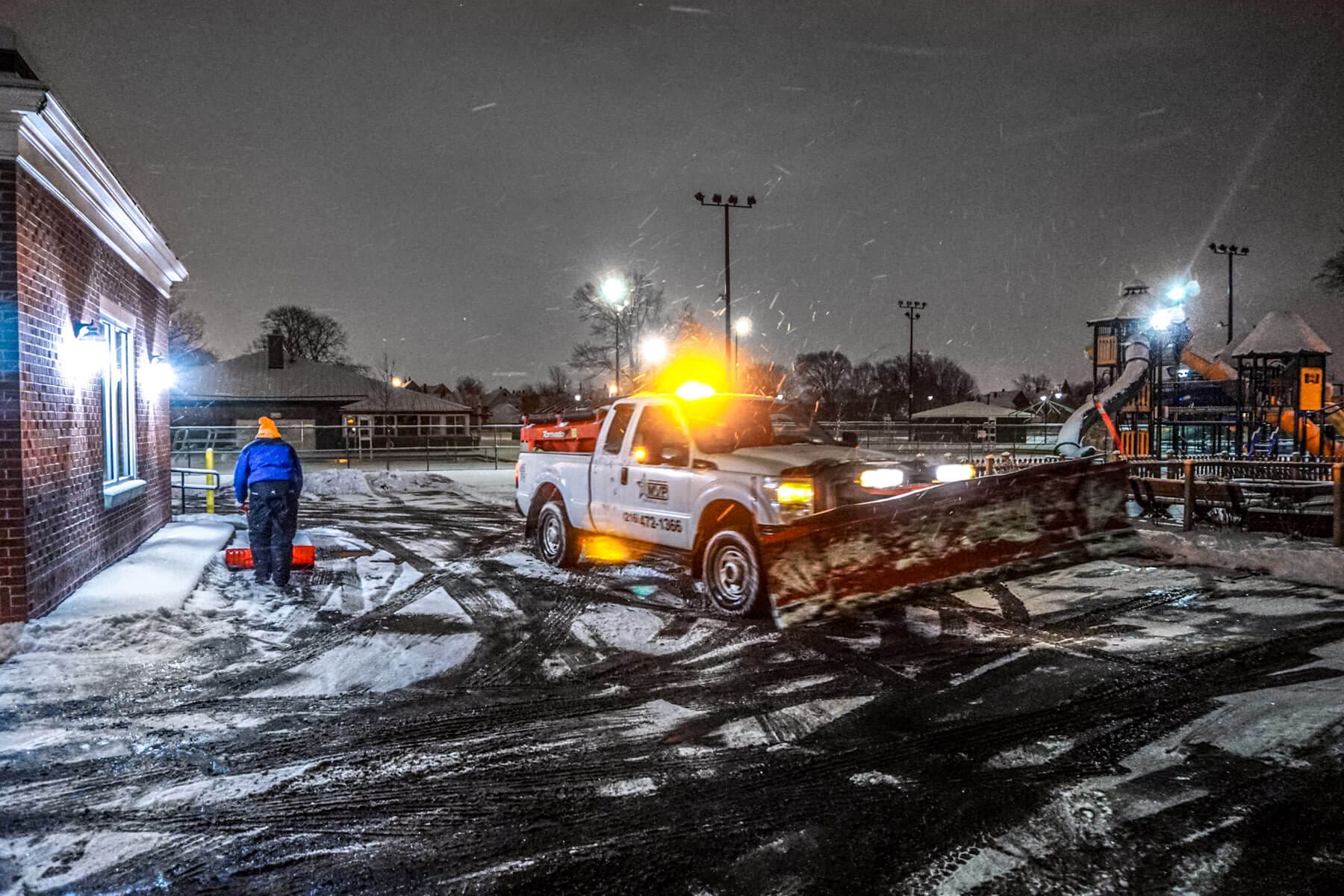 MVP Snow n' Lawn is a locally-owned and operated company in Rocky River, Ohio, which means we get buried under the same winter snowfalls that you get. Over the years we have acquired exactly the right equipment to let that snow know we mean business! Our heavy-duty fleet of trucks and plows are used to keep our customers' parking lots and driveways cleared all winter long. Our strong MVP snow team also gets out the shovels to manually clear walkways, right up to your doors. We always give our commercial customers priority in winter weather conditions, which means you can rest easy next time white precipitation accumulates outside your business or apartment complex.
Learn more about our Snow and Ice Management services.
We Faithfully Service Commercial Landscapes in Rocky River, Ohio and Surrounding Cities
As more and more businesses realize the advantages of hiring MVP for their commercial landscaping needs, our service area has grown to include these cities west of Cleveland, Ohio:
Explore a New and Exciting Outdoor Career
Working for MVP Snow n' Lawn could be your next best decision. We offer employee perks, and a friendly team environment with great management. If "attention to detail" and "following a job to its completion" are two of your strengths, then we want to hear from you! Check out our current job openings on the Career page.
Contact Us, And We Will Come to Your Location!
Quality commercial landscaping begins with a simple contact form or phone call. Let us know how we can help you, and we'll set up a time to talk to you and walk through your property. We look forward to working with you!