A Healthier, Better-Looking Landscape Can Be Yours All Year Long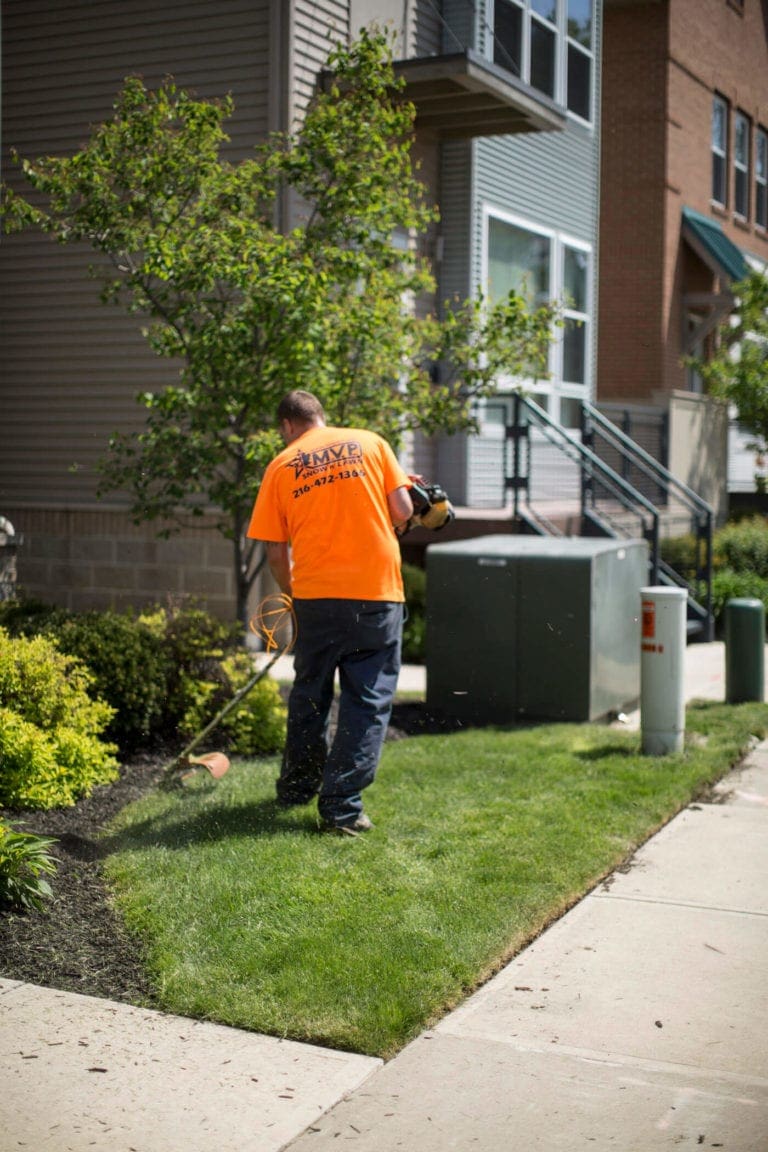 Get professional landscaping services that will ensure a beautiful, healthy outdoor appearance throughout the four seasons. MVP's custom landscape maintenance plans are your ticket to the high-quality landscaping services needed to keep your Westlake, Ohio commercial outdoor areas green and inviting. We can create a plan for you that includes lawn mowing, garden bed care, seasonal clean-ups, fertilization, and anything else that adds value and beauty to your outdoor spaces. 
Our landscape maintenance services are available to commercial and residential properties, large, medium, and small. We faithfully maintain the landscapes on local apartment complexes, HOAs, industrial businesses, and retail businesses. With a team of approximately 20 year round employees, MVP Snow n' Lawn gets the job done correctly and efficiently. You can depend on us for high-quality materials and professional service.
Maintaining a commercial property can be a tiring, endless job. If you don't have the time or experience to keep your landscape looking great, it's time to hire maintenance experts. We manage landscapes all day long, and we've been in the business since 2011. We will keep your lawn lush and trim, your trees and shrubs healthy, and your garden beds bright and beautiful. You'll get a professional look that will reflect well on your business or complex. Contact us to begin the landscape maintenance process on your Westlake, OH commercial property.
A Well-Maintained Landscape is an Asset to Our Maintenance Customers
First impressions are important to your company or apartment complex. We help you make a favorable first impression to all your visitors, and we keep working hard all year long. Our loyal customers understand the value of a well-maintained commercial landscape. At MVP, we take care of our customers, so they can feel confident about their landscape's health and appearance no matter what day it is. Meeting customer expectations is part of how we take landscaping to a higher level.
Find Out What Goes Into a Commercial Landscape Maintenance Plan
All MVP landscape maintenance plans are personalized to your specific needs. We take the time to understand what services you need most. If something changes during the year, we're always available to solve your landscaping problem. Let's take a look at some of the landscape maintenance services we offer our commercial customers:
A Local Landscaping Team with Professional, Four-Season Skills
As your locally-owned and operated landscaping company, MVP understands the unique challenges of maintaining a landscape in Westlake, Ohio. We have years of experience working in this area, so we can apply our professional skills wisely to keep your trees, plants, and lawns healthy throughout the seasons. In the winter, we keep your property safe by managing the snow and ice after winter weather events. The MVP team is composed of top-level landscapers who work year round to improve neighborhoods all over our service area. We stay on top of landscaping technology and make sure all our equipment is kept in good working condition. We have the necessary tools and resources to handle maintenance jobs on any size property. When you sign up for one of our custom maintenance plans, you'll experience the efficiency and integrity of the MVP team.
Trust Our Hassle-Free Landscaping Process
Over the years, we have developed a proven process that works well for all our landscape maintenance customers. It always begins with listening to you, and it results in high-quality, dependable landscape care. Whenever you see our crew in their orange and gray uniforms, you'll know that we're working hard to improve your landscape.
This process begins after your first contact with our friendly staff:
We meet with you on your property.

We analyze your landscape, take photos, make notes, ask questions, and listen carefully to your needs and concerns.

Custom landscape maintenance plan

At the office, our directors create a personalized plan that we think will cover all your maintenance needs.

When we present the plan to you in detail, you'll have a chance to ask questions and suggest changes.

You will receive an invoice for the services we provide.

Begin maintaining your landscape

Most of our maintenance plans include 30 visits during the growing season.
Add a Snow and Ice Management Plan for Peace of Mind in the Winter
From April to November, our maintenance team takes care of your growing plants and trees. In the winter, we don't stop working just because the grass stops growing. Our snow removal services are just as efficient and dependable as our landscape maintenance services. With a snow and ice management plan in place, you'll be able to set your mind at ease concerning your parking lots and sidewalks.
Dependable Landscape Maintenance Available in Westlake and Neighboring Areas
With a main office in Rocky River, Ohio, we are not far from Westlake and other parts of our extended service area, which includes:
We have years of experience maintaining commercial landscapes, including HOAs, apartment complexes, industrial properties, and retail properties. Let us know what we can do for you!
Grow Your Landscaping Career With Us
We hire hard-working individuals who love to work outdoors and have a keen eye for detail. The MVP team is focused on safety and quality. We offer exciting employee incentives. Find out more about open positions on our Careers page.
Getting High-Quality Landscape Maintenance Is Fast and Easy
When you're ready to talk to us about commercial landscape maintenance, please give us a call or fill out our online form. We'll schedule your on-site visit, and that will begin your professional relationship with one of the most dependable landscaping companies in the Westlake area. It's a great feeling to know you've made the right choice for your landscape.