Stay Focused on What Matters Most to You
Owners of industrial properties, such as warehouses and factories, usually want their landscape to be low-maintenance while still looking professional. MVP Snow n' Lawn's commercial landscaping services are well-suited to industrial landscapes. We help give your property a green, vibrant appeal, and then keep it maintained all year long. From lawn care to tree services to garden beds and shrubs around your company sign, we have the skills and resources to make your industrial landscape clean, green, and welcoming.
Our commercial landscaping crews are reliable. We show up in clean trucks, the crew members dressed in orange uniforms and the crew leader in gray. We work efficiently, getting the job done right the first time. Whatever size your landscape is, we have the proper equipment to safely and quickly maintain it. If you ever have any questions or concerns, we are very responsive. We believe communication is key to great landscaping services.
Commercial landscaping plans are customized to your specific needs, so you don't have to worry about paying for a service you don't even use. We manage your industrial landscape for you, allowing you to concentrate on your business. Since 2011, MVP has been building professional relationships with businesses in the Cleveland area.
Keep reading to find out what services are available for your industrial landscape, and how a commercial landscaping plan can benefit you.
Customers Value the Dependability of the MVP Team
The MVP team is committed to improving the Rocky River, Ohio area through excellent landscaping. Our customers see the value of reliable landscaping services. Tidy lawns, properly installed irrigation systems, bright flower beds, and trimmed trees are all signs of people caring about their natural environment. As your locally-owned and operated landscaping company, we value the respect of each of our customers. Great feedback makes our job even better!
Our Landscaping Plans Are Designed to Fit the Exact Needs of Your Industrial Property
Take an inventory of your industrial landscape. Do you have large areas of grass? Does your parking lot have landscaped islands in it? Are there shrubs or garden beds around your sign? How about around your entrances? Have your trees been trimmed recently? When you look around your property, do you get the feeling that your landscape is tired and shabby? If so, we can help. Our commercial landscaping plans cater specifically to your site's needs. We design and install new landscape areas, and we maintain landscapes on a regular basis. Our plans are meant to make your industrial property look better and make your life easier.
Here are some of the commercial landscaping services we can offer:
A Healthy, Inviting Landscape Reflects Well on Your Company
When your landscape is healthy and well-tended, the entire property looks much more professional. A landscape can make or break the overall appeal of your industrial building. Unfortunately, not many industrial property owners have the time to tend their own landscapes. That's where MVP comes in. We take care of all that for you. Under our expert care, your lawn, trees, gardens, and even your irrigation system will be in top condition. First impressions matter, so make sure your property's landscape always looks impeccable.
Snow and Ice Management Services You Can Rely On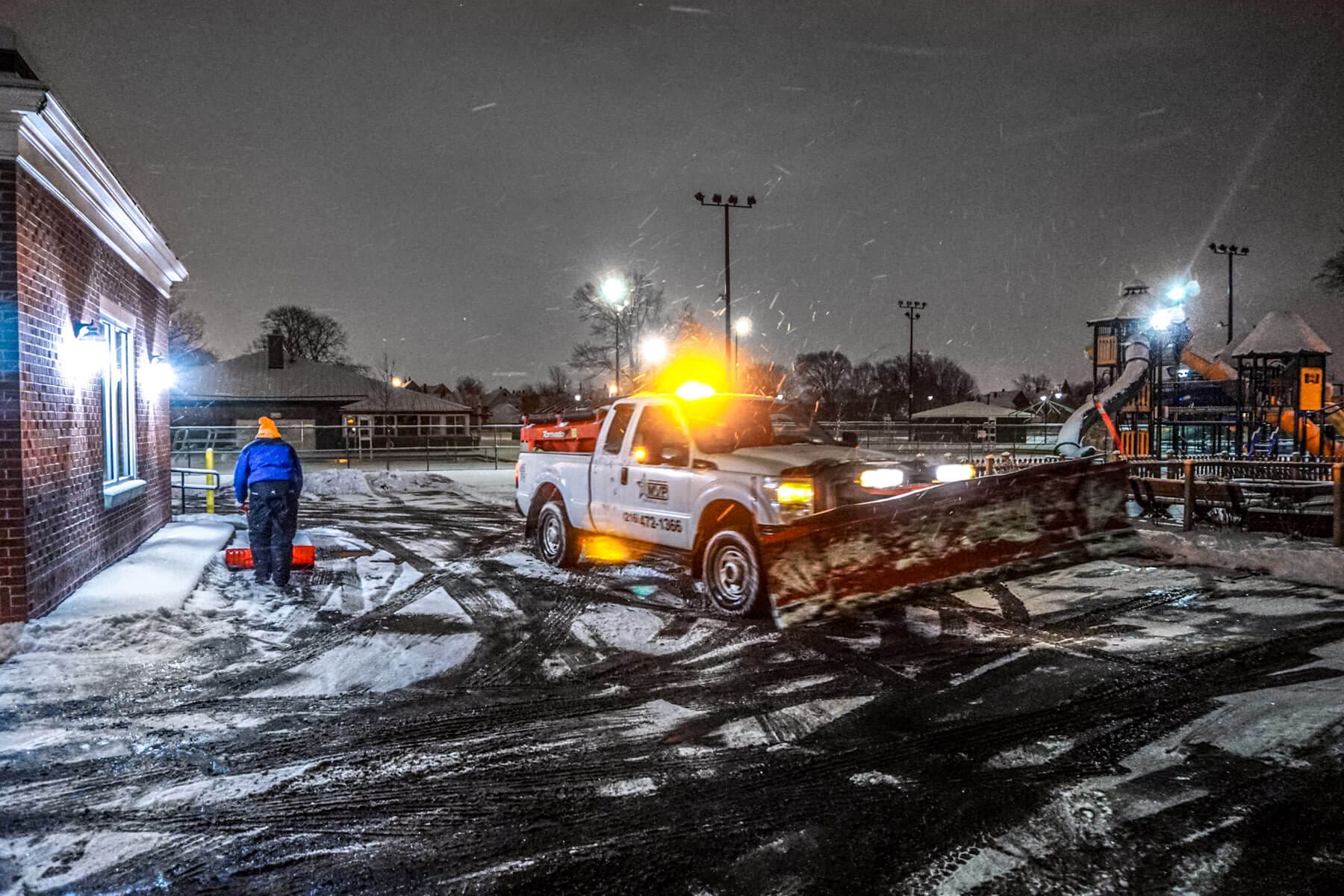 Take advantage of our professional snow and ice management services. This service can be added onto your commercial landscaping plan. We clear parking lots, driveways, sidewalks, and walkways all winter in Rocky River and other parts of our service area. With a full snow and ice management plan in place, you can rely on our crews to be at your industrial property after every winter weather event. We take snow removal seriously. Your employees and visitors can depend on us.
Commercial Landscaping Services for Industrial Properties Available in Rocky River and Surrounding Areas
MVP provides landscaping services to the following areas:
If your industrial property is located in one of these cities, please contact us. We'll get you set up with professional landscaping services that fit your needs.
Fulfill Your Career Dreams on Our Landscaping Team
MVP Snow n' Lawn offers great employee incentives as well as a friendly team environment. If you have landscaping skills and are interested in working outdoors in the Rocky River area, check out our Careers page for current job openings.
How Can We Serve Your Industrial Property?
MVP has the experience your industrial landscape needs to look its best all year long. When you're ready to discuss your landscaping needs, please give us a call or fill out our online form. We'll schedule an on-site visit. From there, we can discuss specific services and commercial landscaping plans. We look forward to working with you.