You Want a Perfect Landscape. So Do We.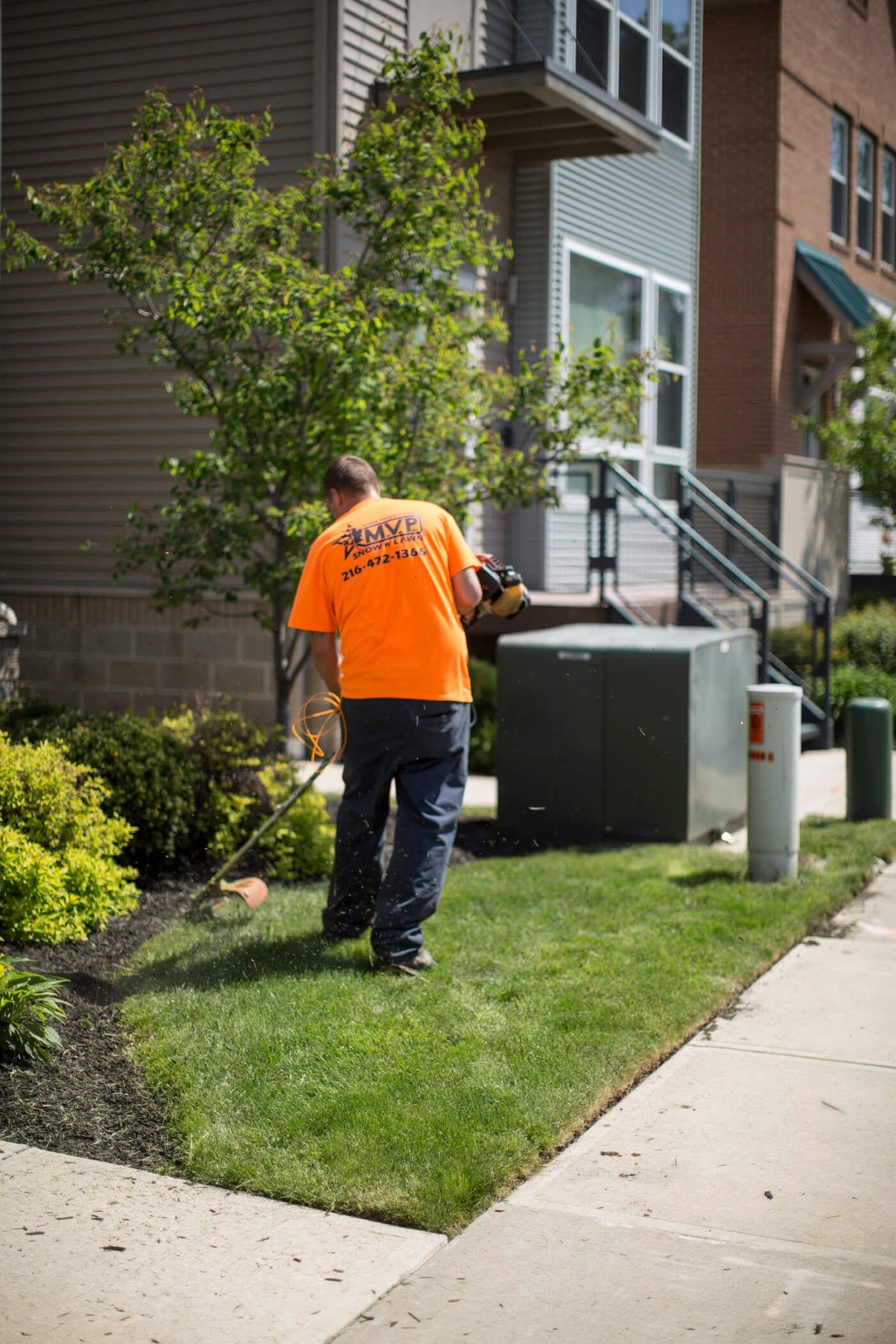 Enjoy the convenience of a professional landscape maintenance team dedicated to keeping your property looking its best all year long. When you sign up for a custom landscape maintenance plan, you know that we're going to be there, mowing your lawn, caring for your plant beds, picking up sticks and debris, and whatever else needs to be done. We put our job in writing, and you can count on us to do everything we promise.
MVP Snow n' Lawn maintains commercial and residential properties of all sizes. We manage the landscapes on apartment complexes, HOAs, retail businesses, industrial businesses, and more. Our team has grown consistently since 2011, and now we operate with approximately 20 year round employees, all trained to give you the quality, professional service you come to expect from MVP.
A lush lawn and healthy trees and shrubs are an asset to your commercial property. Regular maintenance is the only way to keep them looking great. If you don't have the time or energy to maintain your landscape yourself, then it makes sense to give us a call. Landscape maintenance is what we do every day, and we love doing it in Rocky River, Ohio, and other cities west of Cleveland. Your properly-maintained landscape will reflect well on your business or complex.
Our Customers Understand the Value of a Healthy Landscape
A lot of things go into a healthy, maintained landscape. Regular care, ideal weather, fertilization, weed control, mowing and trimming, tree care, clean up services, and plant bed maintenance are all part of what we do. MVP does these things well, but that's not the only reason our customers keep coming back for more. They value our honesty and hard work. MVP has integrity. When we say we're going to do a service, we really do it. Bottom line: you can trust us to get the job done right.
A Landscape Maintenance Plan Created Specifically for Your Commercial Property
Not all landscapes are equal. Therefore, not all landscape maintenance plans should be the same. Your Rocky River, OH property has specific needs that may be different from the property down the street. That's why we take the time to get to know you, your property needs, and your concerns. We are available to answer questions and handle emergencies that come up throughout the year. A detailed custom plan is created for you so we are all on the same page about expectations and services.
Some of the landscape maintenance services we offer our commercial customers include:
Four Season Care for Your Commercial Landscape
Cleveland, Ohio and the surrounding areas are blessed with four distinct seasons. Because MVP is a locally-owned and operated company, we live in the same weather patterns as our customers. We understand this area's seasons and how they affect the natural landscapes. Our landscape maintenance care plan is developed specifically to keep your lawn, plants, trees, and shrubs growing healthy year after year. MVP has been maintaining commercial landscapes since 2011, but the experience of our team in the landscaping industry is even greater. We keep on top of the industry technology, and we have the proper equipment to get the job done efficiently. Combine that with our excellent work ethic, and you have the reason why we have so many loyal customers who sign up for our custom maintenance plan year after year.
Supplement Your Landscape Maintenance Plan with a Snow and Ice Management Plan
The growing season in the Cleveland area typically runs from April through November. You won't be needing your lawn mowed or your plants cared for in the winter. Winter is when we trade in our landscaping shovels for snow shovels. Learn more about our reliable snow removal services. You'll never have to worry about getting your parking lots and sidewalks cleared again!
Maintenance is a big part of our job, but it isn't everything we do. Check out all our services available to commercial customers.
We Maintain Landscapes in Rocky River, Westlake, Bay Village, and More Nearby Cities
Our main office is located in Rocky River, Ohio, but we extend our services out to the surrounding areas, including:
If you own or manage a commercial property (including HOAs and apartment complexes) in these areas, we will be pleased to keep your lawn and landscape looking beautiful all year long.
Fulfill Your Career Dreams on Our Landscape Maintenance Team
MVP Snow n' Lawn offers great employee incentives and a safe working environment. Check out our Career Page to see if there is a job opening for you.
We Want to Provide You with Reliable Landscape Maintenance
Give us a call or fill out our online form! We're waiting to schedule your on-site visit. Find out how easy it is to get the best landscaping service in the Cleveland area.