Present Your Corporate Office in a Positive Light with Professional Landscaping
The way you do business is vital to your overall professional image. As commercial landscape contractors, we want to match the outdoor appearance of your corporate office with what's going on inside. While your corporate office landscape is not likely to be your number one priority, you don't want it to lose its freshness and present your company in a negative light. Your landscape is often the first impression people have of your company. We'll help you use your natural outdoor areas effectively with our full range of commercial landscaping services.
Whether your corporate office landscape needs a complete design makeover, or it needs a reliable company to tend it regularly, MVP Snow n' Lawn has the workforce to make it happen. Imagine your corporate office surrounded by healthy lawns, shrubs, and trees. Your company sign has been expertly landscaped with mulch and perennials. A bright garden of annuals flanks both sides of your entrance. Every week, a uniformed MVP employee comes over with clean, safe equipment to mow your lawn, trim around the office building, and blow the clippings off your walkways and sidewalks. Your old irrigation system has been repaired and now functions better than ever. Your outdoor lighting effectively brightens your corporate office building and sign in the evening. When the first winter storm blows in, you are already covered with a snow and ice plan that will keep your parking lots and walkways clear.
MVP has been in business since 2011. Trust us to take care of all the details of your corporate office landscape, so you'll have time to handle more important business matters.
Building Great Customer Relationships One Landscape at a Time
MVP Snow n' Lawn offers commercial and residential landscaping services. All our customers know that we are a dedicated team, on a mission to improve landscapes across our service area. As we work hard on landscaping, we also build valuable relationships with customers. We have a loyal customer base because customers learn to trust our overall integrity. MVP is a local, family-owned company with good family values like honesty and respectfulness. Check out the customer testimonials for more feedback on how our team works.
Personalize Your Landscaping Plan to Fit Your Corporate Office Landscape
What kind of landscape surrounds your corporate office building? Is it small, big, hilly, or flat? Does your landscape currently look healthy or old and tired out? MVP Snow n' Lawn will carefully evaluate your corporate office landscape, and create a management plan that is personalized and specific to your needs. We take the time to talk to you and learn what's important to you. We're here to offer top-rate landscaping services that truly make your life easier, not more complicated. Take a look at some of these commercial landscaping services for corporate offices:
Enhance Your Corporate Office with Nature's Beauty
Create an attractive, positive vibe through professional landscaping. Proper landscape care ensures your turf, plants, shrubs, and trees are healthy and beautiful. No matter how impressive your corporate office building is, the landscape surrounding it can make or break the overall effect. MVP's comprehensive, year-long services enhance nature's restful, soothing beauty. Your employees, clients, and visitors will appreciate a well-tended landscape.
Rely on MVP for Snow and Ice Management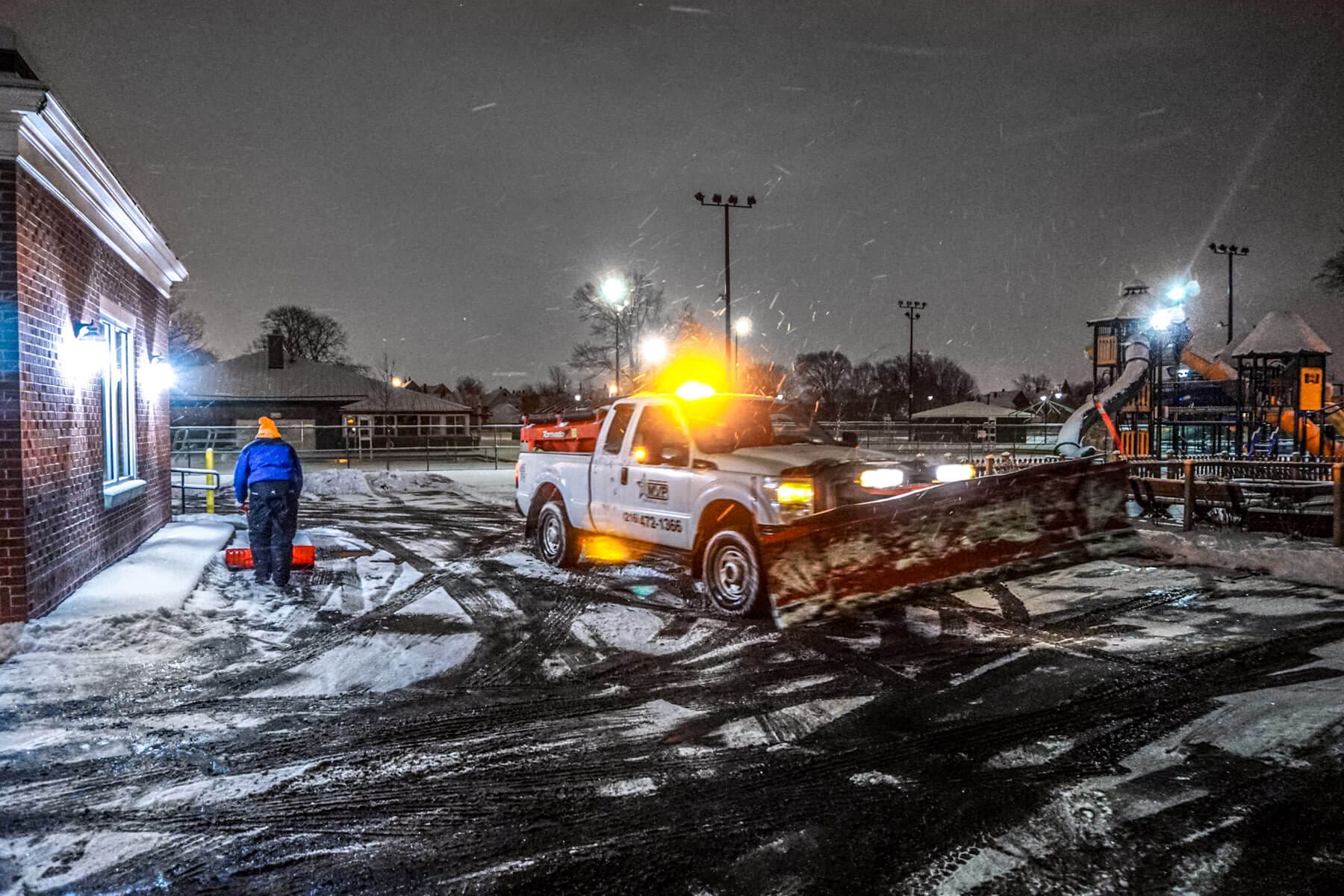 The MVP team doesn't take a break in the winter. Instead, we get out our snow plows and professionally remove snow and ice from the properties we maintain in Rocky River and nearby cities. This year, rely on us for all your snow removal needs. We have the equipment to get the job done right, all winter long. We'll keep the parking lots, driveways, walkways, and sidewalks clear around your corporate office building.
Commercial Landscaping Services for Corporate Offices are Available in Rocky River and Nearby Areas
Our commercial landscaping services extend to these areas:
If you own or manage a corporate office building in one of these areas, we encourage you to contact us for landscaping services. We have the professional skills and experience to keep your lawns and plants healthy and tidy all year long.
Grow Your Landscaping Career in Our Team Environment
MVP Snow n' Lawn is a safe working environment with great employee incentives. Find a job to sharpen your landscaping skills on our Career Page.
Take the Next Step Toward High-Quality Commercial Landscaping Services
When you're ready to learn more, please call us or fill out our online form. We have the experience you need for designing, installing, and maintaining the landscape around your corporate office building.