Achieve Beautiful Results With Our Creative Landscape Design Solutions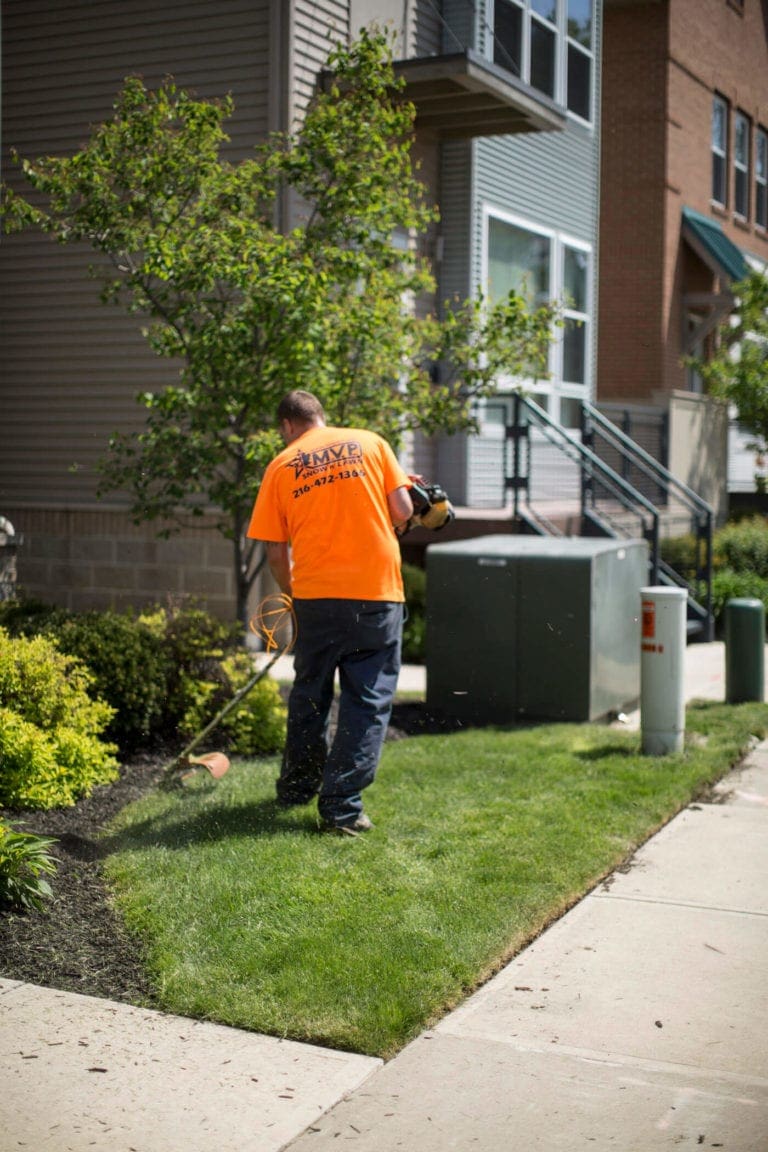 If you're thinking about giving your commercial property a refresh, or you have a new property that needs landscaping, MVP has the landscape design experience to make it look great and function well for your purposes. Landscape design incorporates every element of your landscape into an attractive look that gives your Westlake, Ohio property new appeal. If your current landscape has weedy grass, sad-looking shrubs, and very little color, we can fix that. Our designs can add a beautiful garden bed around your company sign, new sod for a lush, green lawn, healthy shrubs and trees, and customized planters for a spot of bright color around your entranceways.
Already have a vision for your commercial landscape design? That's great! Our professional designers will listen closely to your ideas, and we'll make sure it all comes together into a plan that fits your budget and functions well on your property. Rely on us to create a design that will be manageable. We pay attention to big issues, such as drainage and irrigation, and small details, such as the colors of the annuals and perennials in your garden beds.
We have experience with small commercial properties, such as retail businesses and restaurants, and large properties, such as apartment complexes and HOAs. Keep reading to learn more about commercial landscape designs in Westlake, Ohio.
Positive Customer Ratings Show that MVP has the Experience You Desire
Our team puts a high priority on customer service. We strive to meet your expectations throughout the design process, and that means maintaining an open line of communication. Our customers appreciate our listening skills, and the way we follow up with a great design that makes them happy they chose MVP. We encourage you to read customer reviews to get a better idea of our local experience in commercial landscape design.
We Add Function and Natural Beauty to Your Commercial Landscape with High-Quality Designs
Our professional design team has the experience and skills necessary to create a gorgeous design that will positively impact your company image. With the proper combination of creativity and science, we put together a plan that will last for years with proper maintenance. At MVP, we focus on landscape design projects that cost around $10,000. This is our sweet spot for giving customers the best value without skimping on quality.
Consider these options that could go into your customized commercial landscape design plan:
A Healthy Environment is Your Key to a Better Commercial Landscape
Your employees, customers, residents, and whoever else visits your Westlake property will appreciate a renewed focus on outdoor health. Your outdoor image is important to your company, and if your landscape looks healthy and attractive, it will leave a positive impression. You can trust MVP's experts with your landscape design. We have experience with HOAs, apartment complexes, industrial properties, retail stores, and other commercial properties.
Continue Your Landscaping Project in Westlake with Our Full Range of Landscaping Services
As a full-service landscaping company, MVP Snow n' Lawn provides all the services you need to take your commercial landscape design and bring it to life. Our professional crews will install the landscape, including all natural elements and manmade elements, such as walkways and patios. After that, we offer customized maintenance plans that keep your new landscape healthy and attractive all year long. Your commercial property can truly benefit from a plan that includes regular lawn mowing, weed control, seasonal clean-ups, and more. When the winter storms start blowing into Westlake, we begin our snow and ice removal services, keeping your parking lots, driveways, and sidewalks safe. Find out more about our commercial services:
We also offer landscaping and snow removal services for residential properties.
MVP's Commercial Landscape Design Services Are Also Available in Other Nearby Local Cities
We are a local company, based in nearby Rocky River, Ohio. Our service area extends to the following cities:
Check out our Service Area page for more details about the commercial services we provide to Northeast Ohio properties.
Begin a New Career in Landscaping
Every member of the MVP team has a passion for landscaping. If you share our passion, and you have the skills we need, we may have a job for you. The MVP team offers a safe and friendly working environment, employee incentives, and we have positions open year-round. Take a look at our Careers page for current job openings.
Ready to Bring Your Westlake Property to Life?
If your Westlake, Ohio property is in need of a facelift, or you have a new commercial development that needs landscaping, please contact us. We work closely with you to bring your commercial property to life with professional commercial landscape design. Give us a call, or fill out our online form, and we'll set up an on-site visit to learn more about your landscape.