MVP Snow n' Lawn is more than a landscaping contractor company. It's a group of fantastic, hard-working individuals who dedicate their working hours to creating and maintaining landscapes in the Rocky River. Ohio area. We each have our own strengths on the job, and together we unite to make the team that our customers have come to respect and trust. We are proud of our team. Our dedication, skill, and integrity have transformed our small, locally owned and operated landscaping company into a well-respected team of landscaping experts.
As we grow our business, our landscaping contractors team talents also grow. A landscaping company needs all sorts of people to succeed: smart business minds, friendly receptionists, organized office workers, knowledgeable plant experts, creative designers, skillful builders, experienced equipment operators, snow removal experts, detail-oriented maintenance crew, strong outdoor types, warm personality types, unwavering working types. Every person on the MVP team is important and valued. We are fortunate to hire so many employees who fit our definition of landscaping professionals.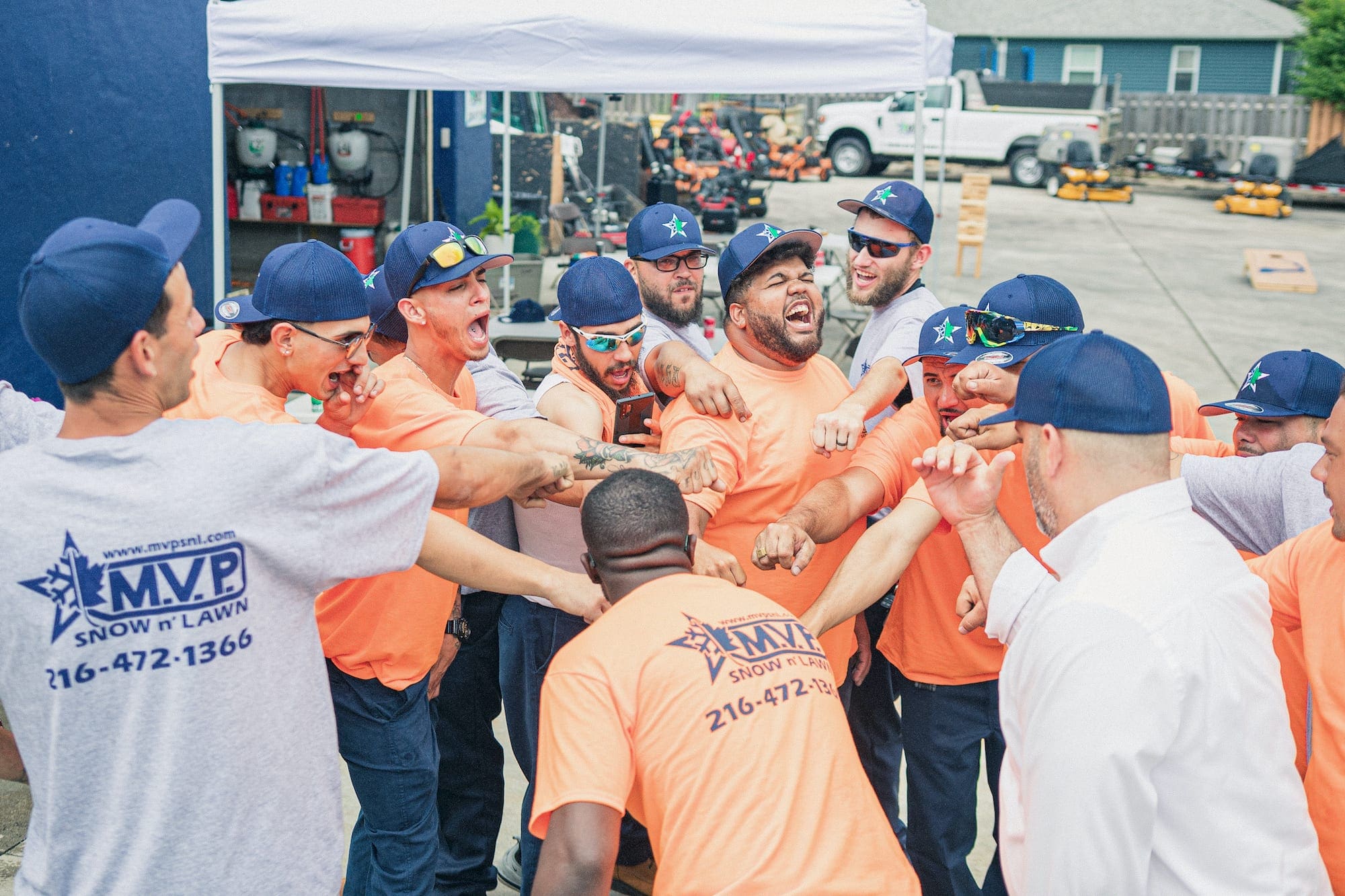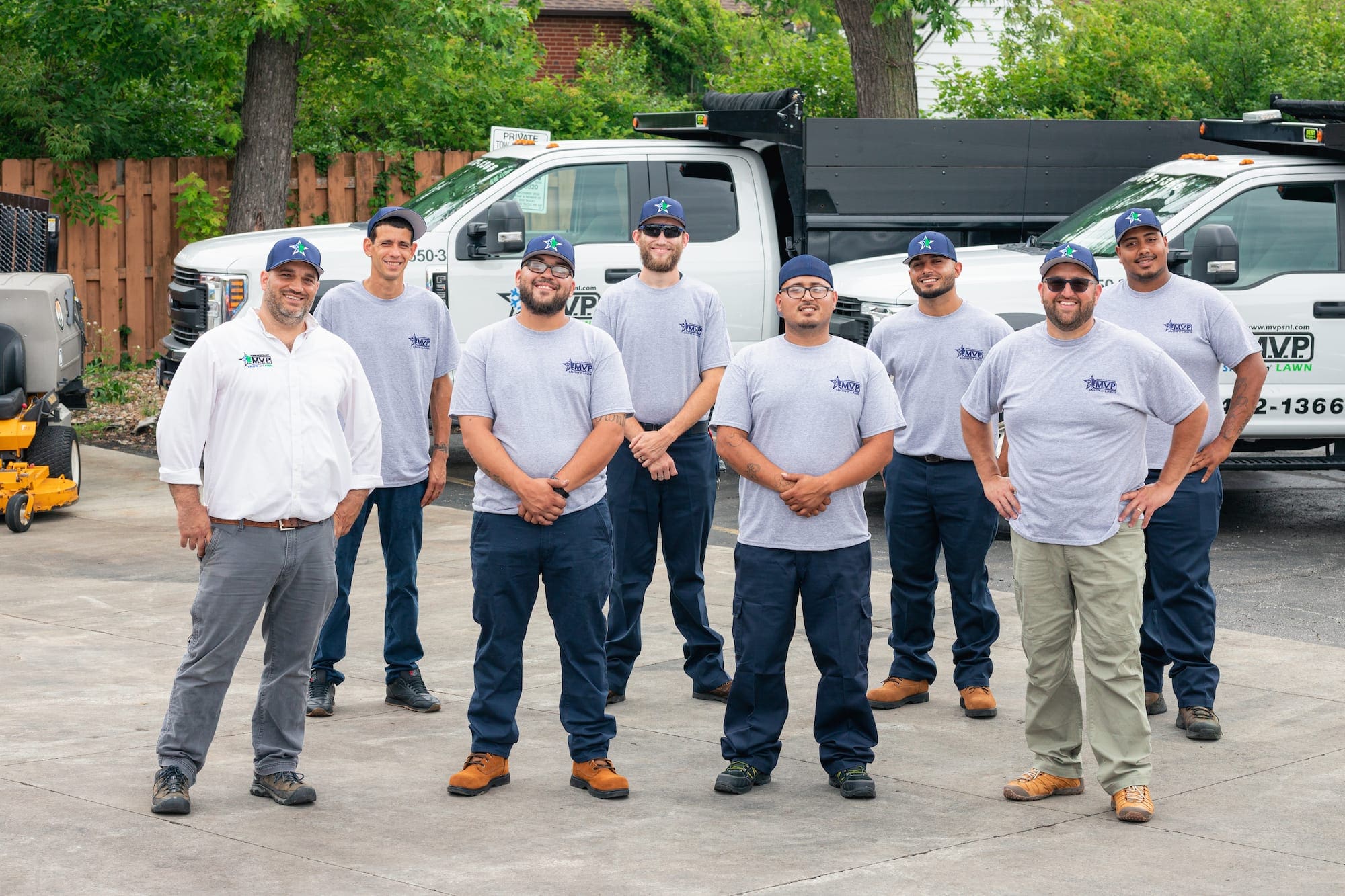 Meet Eddy. He keeps his keen eyes and capable hands in the management and operations of each account. Eddy is the man who ensures MVP uses up-to-date equipment (and keeps it in good condition!). His many certifications in snow maintenance and landscaping prove he is highly knowledgeable in his industry. His degrees in business administration and marketing from Cleveland State University have proven invaluable as he grows MVP Snow n' Lawn into a well-respected company in the community.
Tyler Lombardo, Vice-President
Meet Tyler. Tyler frequently has his sights fixed on the future. Before the beginnings of the company, when Tyler operated a valet parking service, he had a vision of a multi-service landscape contractors company. Thanks to his dedication and ambition, that vision became true. Now, he sees MVP Snow n' Lawn growing, gaining more loyal customers, and becoming a stronger, better company as the years go by.
Meet Our Core Superhero Crew
Combined we are what sets MVP apart from our competitors and gives our customers a successful team to do the job.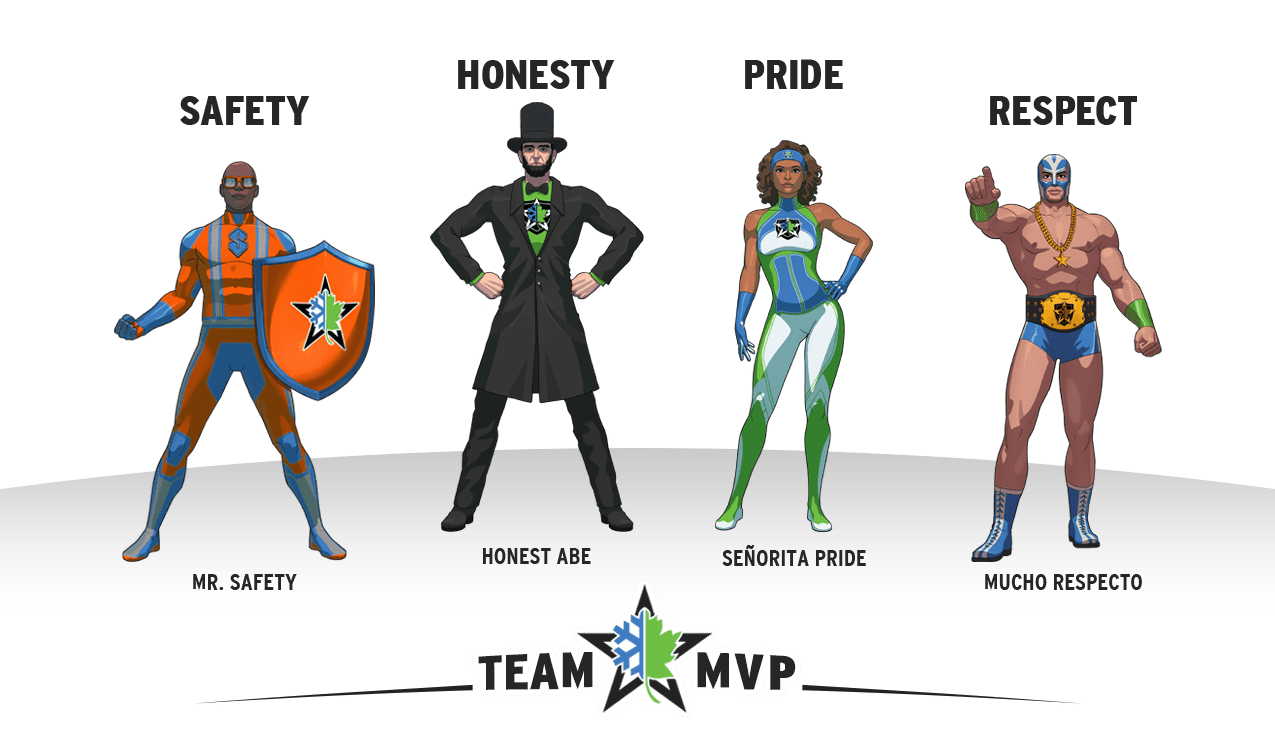 "I protect this team with my shield so they can come home safely after every shift."
"My job here is to keep the team honest and let them know that speaking the truth is the MVP way."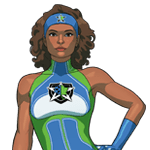 "I'm here to keep TEAM MVP's sites looking good!!"
"I push the team to show up on time and treat each other with mucho respecto."
Check Out How We Built Our TEAM CULTURE
The MVP team is a tight-knit group. We work hard and have a lot of fun at the same time. This type of team culture didn't come effortlessly. Our fearless leaders, Tyler and Eddy, put time and thought into the way we interact and build each other up. For instance, the entire team interacted in a team exercise where we tossed around ideas of the type of culture we wanted at MVP. While the team shouted out answers, Eddy and Tyler wrote them down on the whiteboard. It was good seeing how different people on the team felt about our working environment, and it gave us some real ideas on ways we can improve and continue to build each other up. It also helped us refine our company's core values, which drive us forward whether we're out on the job site or working in the office.
Employee Appreciation Day
For our mid-season employee appreciation event, we took the crew to Swings-N-Things Fun Park and enjoyed go-karting, laser tag, batting cages, putt-putt, and more. Transportation was provided by the Bender Bus, and food was catered by Famous Daves.
We're thankful for getting through a tough season and thankful for the clients and vendors that make this all possible! Come join a winning team!
This year for Employee Appreciation Day, Tyler and Eddy surprised the team by renting a party bus! We boarded the bus, and it took us to various job sites we'd been working on. We met with customers and property managers, and they told our crew how much they appreciated our hard work. It was gratifying to see the trust and rapport that MVP has built up with so many people who need our landscaping services.
After the tour of job sites was over, the bus took us to a great taco restaurant to celebrate, eat, and have fun together!
Our team of about 20 employees provides top-quality, professional landscaping services to residential and commercial customers in the Rocky River area.
Eddy and Tyler choose their employees carefully. They strive to keep up a team of hard-working, honest individuals who will consistently get their work finished on time and in good condition. The management keeps close tabs on all the work the MVP team does. Regular maintenance accounts get a monthly walk-through, which helps ensure quality.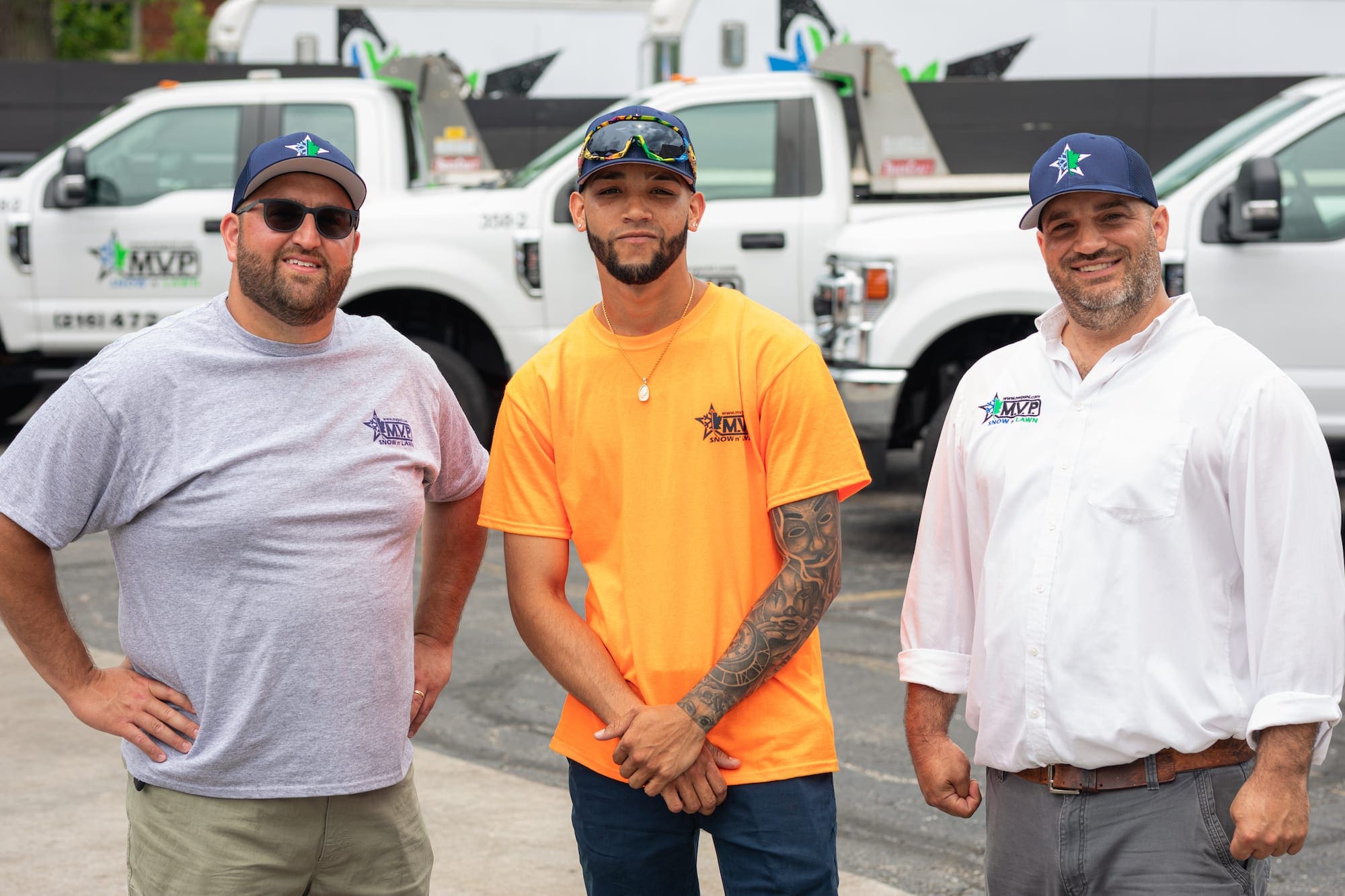 Whenever our team goes to work, we wear our MVP uniforms. The crew wears orange shirts, and the supervisors wear gray shirts. This is one way we respect our customers. We also have high safety protocols because we respect your property and everyone's safety. Our team is trained to put the customer's needs first. You and your loyalty are the reason we have been able to grow our business since its conception in 2004.
Be a Part of Our Valued Team!
If you are looking for an exciting landscaping career, we invite you to check out our current job openings on our Careers page. 
We also partner with reliable, experienced snow removal contractors. See if you have what it takes to be a part of MVP's high-energy snow team.
Proudly Serving Rocky River, Ohio and Other Cities West of Cleveland
Northeast Ohio is truly a wonderful place to live and work. We enjoy all four seasons, and we love each one! If you live in or near one of these cities, we can offer you our top-quality services to keep your property clean and safe all year long:
* Note: Unfortunately, we are not able to provide snow services to Avon and Avon Lake at this time.