Trust Our Dependable Team with Your Commercial Landscape All Year Long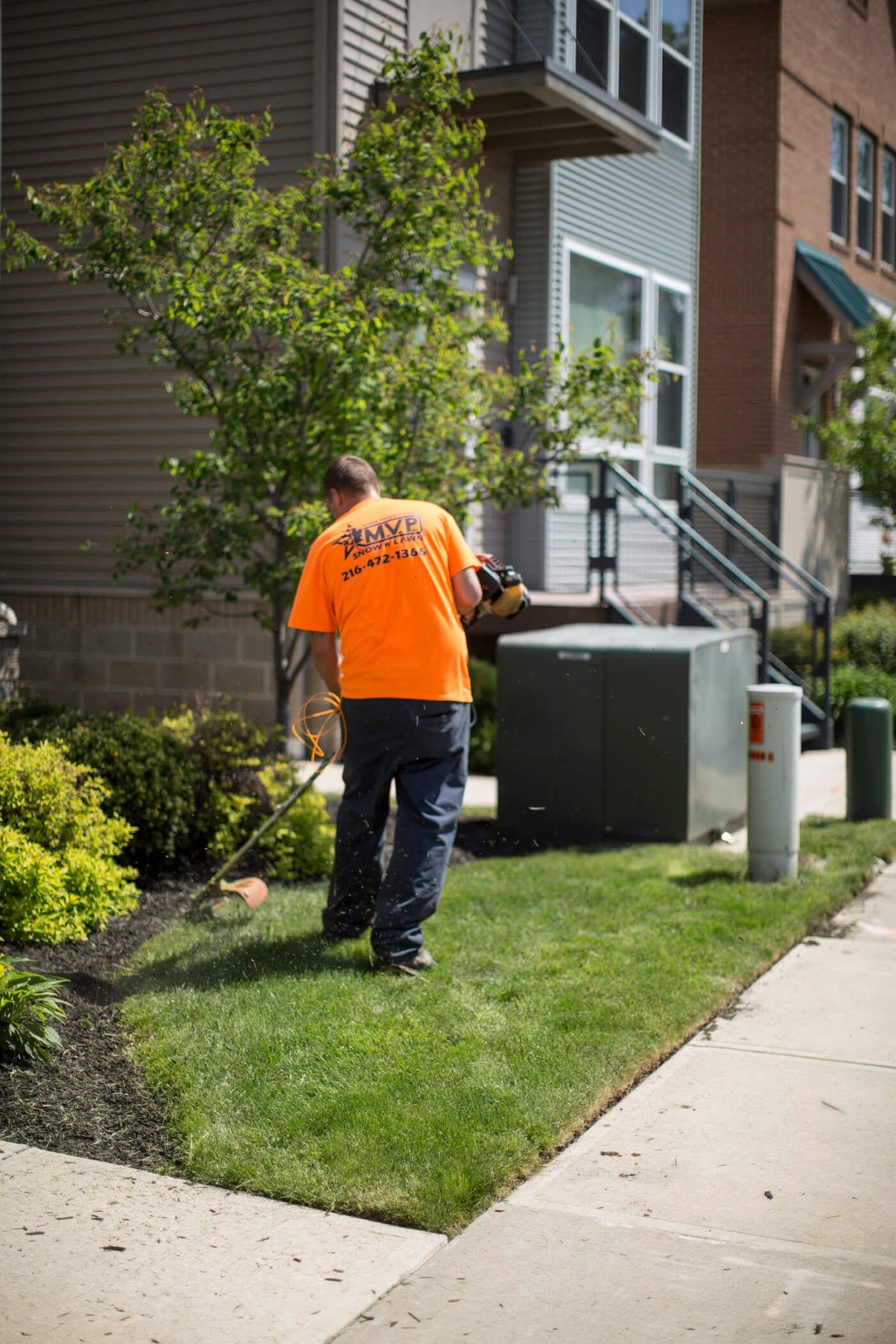 When you want a North Olmsted, Ohio landscaping company that knows how to properly care for your commercial landscape, you need to check out MVP Snow n' Lawn. We have a reputation for being there when we're needed. Count on our professional team for all types of landscape management services, including regular maintenance, lawn mowing, tree care, design and installation, snow management, and more! Each management plan is customized to suit your exact needs.
MVP manages big, medium, and small commercial properties, including apartment complexes, HOAs, retail businesses, and industrial properties. Our hard-working team works year-round. Over the years, we've developed professional relationships with local commercial businesses, and we maintain them by being respectful and honest in every job we do.
We promise to stay on top of all your landscaping needs. This saves you time and money in the long run because you have less to worry about. Our team keeps you informed about the status of your landscape. Whenever you see the MVP crew with their orange and gray uniforms, you know your property is getting the best care possible. We're dedicated to maintaining beautiful, healthy lawns and landscapes.
See Why Customers Choose MVP to Keep Their Landscapes Looking Great
Our customers choose our services for a variety of reasons. When it comes to lawn, tree, and garden care, we are the local experts. We also do a terrific job with design and installations. Whenever our customers need something done to their landscape, they know where to turn. MVP tries hard to earn the trust of each one of our customers, and it shows!
A Commercial Landscape Management Plan Personalized to Your Needs
We know that your landscape is different from all the other landscapes in North Olmsted, OH. That's why we offer customized landscape management plans. When we begin the management process, we take time to understand your specific needs. We listen closely to your concerns and ideas so that together, we can create a plan that fits. If something unexpected happens during the year, we'll handle it on an individualized basis. Everything we do is designed to keep your commercial landscape safe and healthy.
Your personalized commercial landscape management plan may include these services:
We take care of big jobs, like putting in a new lawn, and small jobs, like caring for the flower planters outside your entrance door. We know that you'll appreciate our hard work and our attention to detail. It all results in an inviting outdoor area on your commercial property.
Enjoy a Healthy Landscape Every Month of the Year
MVP is based in nearby Rocky River, Ohio. We are a local company with extensive knowledge of local climate, soil types, and native plants. Every area has unique landscaping challenges, and MVP has been meeting these challenges since we began in 2011. We'll keep your landscape growing healthy during our growing season, and well-protected during the winter season. 
We couldn't work as hard as we do without our equipment. The MVP trucks and other landscaping equipment are kept well-maintained for the safety of our employees and customers. We have the right size equipment for every landscape we manage. Whenever you see the MVP trucks or mowers on your property, you know your landscape is benefiting from top-of-the-line technology.
Need Snow and Ice Services in North Olmsted, OH? No Problem!
In the winter, our team puts away our landscaping shovels and gets out the snow shovels. Our dependable snow removal services ensure your parking lots, driveways, and sidewalks are cleared of snow and ice after every winter weather event. In fact, we put top priority on our commercial customers because we want to keep your customers, employees, and residents safe, no matter how big a snowstorm we get!
Proudly Managing Landscapes in North Olmsted, Ohio and Neighboring Areas
Our commercial landscaping services include the following cities west of Cleveland:
See our Service Area page for more details about the services we offer to Northeast Ohio commercial properties, apartment complexes, and HOAs.
Bring Your Skills to Our Experienced Landscaping Company
At MVP Snow n' Lawn, our hard-working employees can work outdoors with a crew that emphasizes safety first. We offer employee incentives and a friendly team environment. See our Careers Page for current job openings.
Schedule a Commercial Landscape Consultation
We want to get you the commercial landscape management you need, so you can concentrate on more pressing matters. To schedule your on-site consultation, please give us a call or fill out our online form. See how easy it is to get quality, year-round landscape care in North Olmsted!