Your Landscape Needs to Look Great. We Can Keep It That Way.
Our professional landscape maintenance team has the skills and resources to keep your Bay Village, OH commercial landscape pristine all year-round. Each maintenance plan is fully-customized to your needs, which means you'll get exactly the services you want and nothing that you don't want. We'll mow your lawn regularly, tend your garden beds, pick up sticks and debris, add mulch, and more! Count on us to always be there when we say we're going to be there. It's our job to be reliable, and we take our job seriously.
We have extensive experience maintaining commercial and residential properties of all sizes. Our team manages the landscapes for sprawling apartment complexes, neighborhood HOAs, retail businesses, and industrial properties. We've been in business since 2011, and we keep growing our team and our reputation. We currently operate with 20 year-round employees who are all dedicated to giving you the best landscaping service available in Bay Village.
Commercial landscape maintenance is necessary to keep your property looking its best. Concentrate your time and effort on running your business, and leave the landscaping to us. You won't regret it. We are true professionals who love working hard to make outdoor areas healthier and tidier. Give us a call, and let us set up a commercial landscape maintenance plan for you.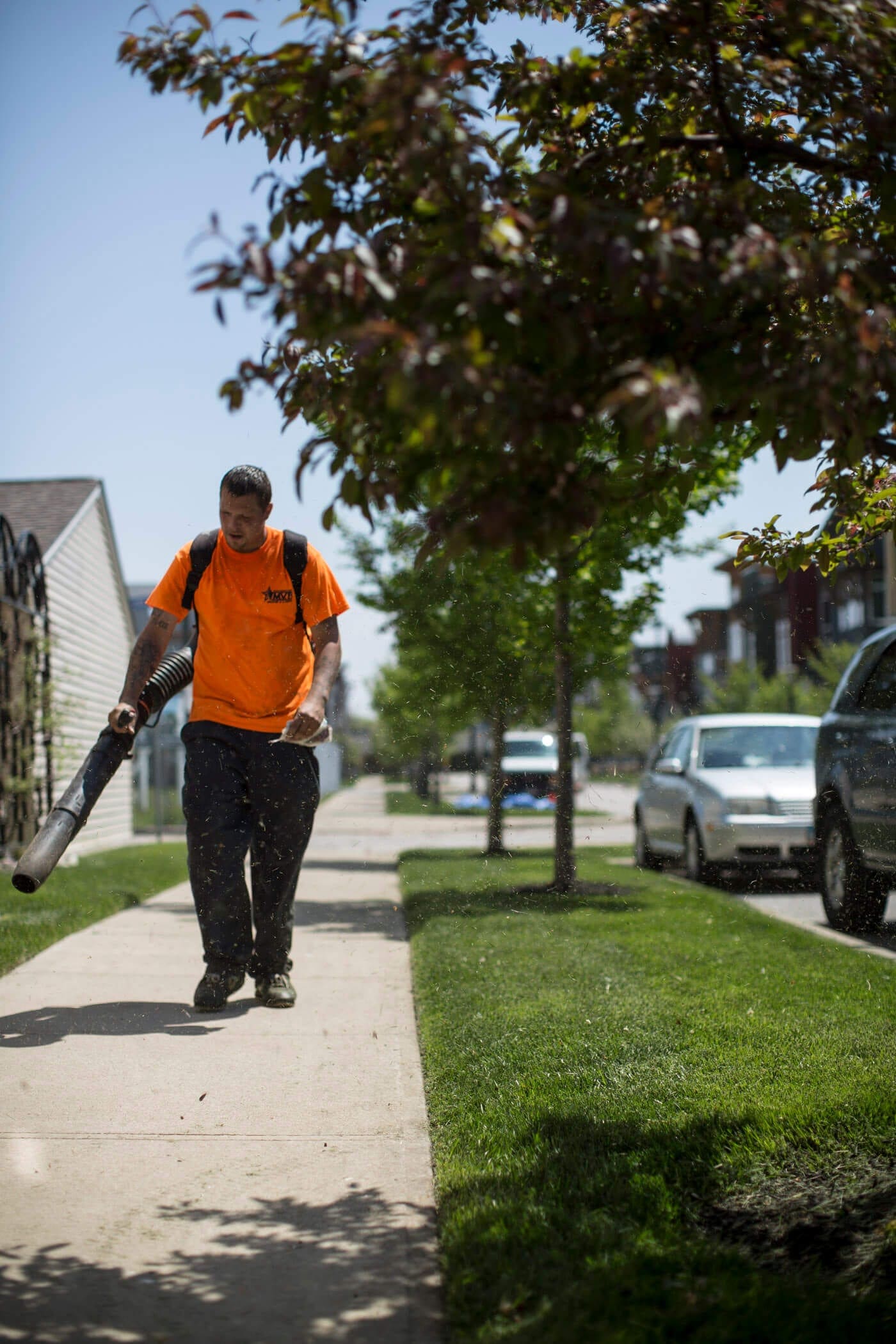 Honest Feedback from Customers Who Have Experienced the MVP Difference
Customers notice when a landscape maintenance company does things right. They also notice when we keep our promises. We value each of our customers, and we are thankful for their loyalty. We strive to make a positive difference in Bay Village and other cities west of Cleveland, one landscape at a time.
Personalized Landscape Maintenance Plans for Bay Village Commercial Properties
We take the time to get to know you and your property's landscaping needs. Your landscape maintenance plan is going to look different from the landscape we maintain down the road. That's because each property is unique. You can depend on responsive customer service throughout the year. If an emergency ever occurs, let us know. We'll help you out. When you sign up for a landscape maintenance plan you'll receive a detailed, customized plan that lists our services.
Some of the services we offer our commercial customers include:
Impressive Landscaping for Every Season of the Year
We are your locally owned and operated landscaping company. We know how to landscape effectively in the Cleveland-area climate. The four distinct seasons are both a blessing and a challenge for maintaining healthy plants, lawns, and trees. MVP understands the steps needed to protect your landscape and keep it looking its best all year long. We keep abreast of industry technology and advancements, ensuring you get the best landscape maintenance experience possible. When you think about our team's vast landscaping experience plus our dedication to working hard, it's no wonder customers keep signing up for our custom maintenance plans. When our team shows up in their orange and gray MVP uniforms, you know you can expect high-quality care.
Got Snow? We Have a Snow and Ice Management Plan for You.
Heavy lake effect snow can put a stop to normal business operations. That's why you need to have a plan in place before winter begins. Add our Snow and Ice Management plan to your custom landscape maintenance plan, and you can sleep soundly at night, knowing our dedicated team will get your parking lots, driveways, and sidewalks cleared whenever a winter storm hits.
Reliable Landscape Maintenance in Bay Village and Nearby Cities
Our main office is located in Rocky River, Ohio. We extend our landscape maintenance services to the following cities:
Depend on MVP Snow n' Lawn. We've been servicing this area for years, and our portfolio includes HOAs, apartment complexes, industrial properties, and retail businesses. We are your local experts for commercial landscape maintenance.
Begin a Rewarding Career in Landscaping
If you have the skills and dedication we are looking for, you may be the right employee for one of our open positions! MVP focuses on high-quality services, teamwork, and safety. We also offer great employee incentives. Learn more on our Careers page.
Let's Discuss Your Commercial Landscape Maintenance Needs
We have the right skills and equipment to meet your specific needs. You can always count on our team to be on time and to get your job done right. Schedule an on-site visit, so we can get you started on dependable commercial landscape maintenance in Bay Village, Ohio.