Our Experienced Crew Provides Year-Round Care for Your Commercial Landscape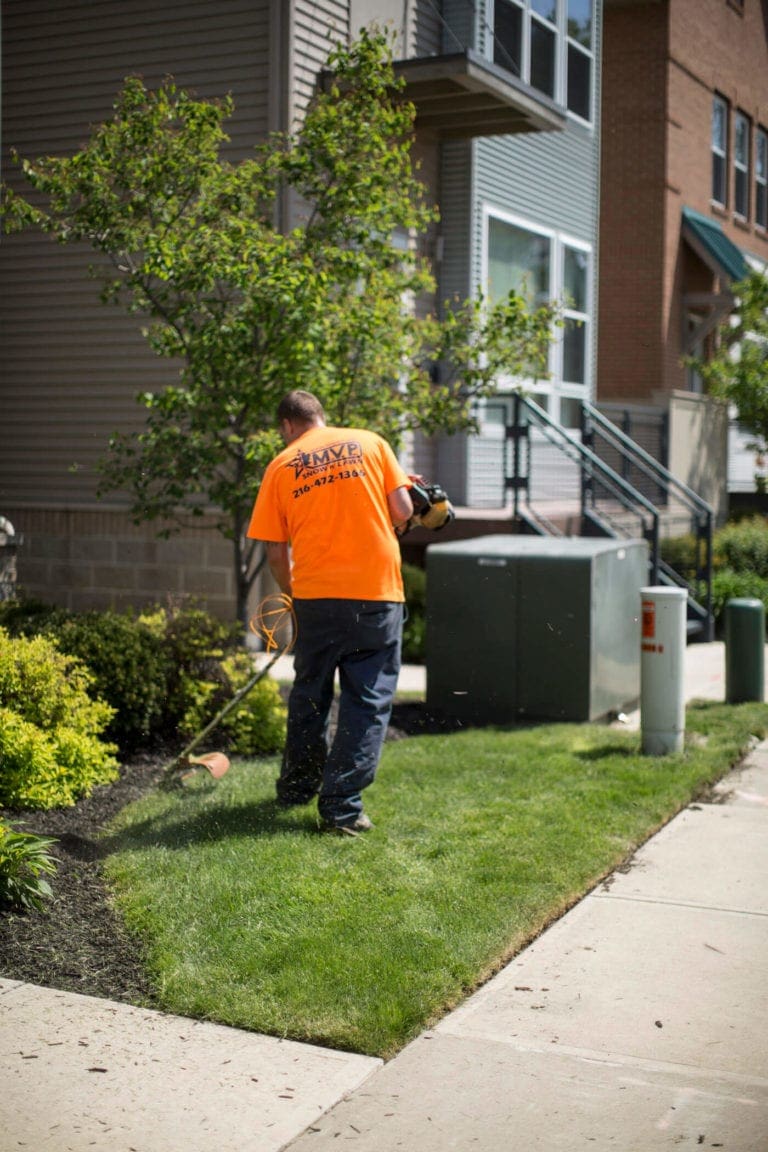 Looking for a dependable company to take over the maintenance of your commercial landscape in Bay Village, Ohio? MVP Snow n' Lawn has the solutions you're looking for. With a reputation for reliability, MVP is a professional landscaping company with extensive experience in commercial landscape maintenance. Our crews take on whatever tasks you need most, including regular lawn mowing, lawn care, tree and shrub care, new design, installation services, and snow management. Tell us what kind of landscaping problems you have throughout the year, and we'll come up with a customized plan that works for you.
We have experience with all types and sizes of commercial properties. Our repertoire includes HOAs, apartment complexes, retail businesses, industrial properties, and more. Our relationships with local businesses have grown and strengthened over the years as we continue to provide them with landscaping services that are high on integrity and low on stress.
With our team managing your landscape, you'll be able to concentrate on more important things. We promise to keep track of your landscaping needs, and take care of them faithfully. You can rely on us to give you accurate and regular updates. If a problem arises, our professional team will use their skills to find a working solution. We are your source for year-round landscape maintenance that results in great-looking landscapes.
See How MVP Keeps Customers Happy in Bay Village and Neighboring Cities
Bay Village business owners know where to turn for outstanding landscaping all year round. The MVP team has been pleasing local customers for years, providing dependable maintenance services as well as excellent design and installation services. We strive to make a lasting difference in our community through beautiful landscaping.
A Customized maintenance Plan Takes Care of All Your Commercial Landscaping Needs
Each commercial property we work on has different problems that need to be solved. That's why we create a customized commercial landscape maintenance plan. Your maintenance plan will meet your specific needs, so you'll only be paying for the services you actually get. If something different needs to be accomplished at some point, just let us know, and we'll handle that unique situation, too. When you hire MVP for your landscape maintenance, you can count on us to listen carefully to all your concerns, so that we can do the best job possible.
A customized plan for your commercial property could include some of these landscaping services:
The scope of our commercial landscape maintenance plan covers large tasks and small ones. We are detail-oriented, and we love to leave properties looking attractive and healthy. Under our careful management, your property is sure to improve.
Four-Season Care from the Local Experts at MVP
As your local experts, our team of professional landscapers understands the growing conditions in Bay Village. Our knowledge of local plants and climate helps us meet the challenges that leave other companies stumped. Let us work on your landscape, so we can help it grow properly throughout the year. In the winter, we'll keep your property safe.
Have you seen our MVP trucks working in the neighborhood? We have all the equipment necessary to handle big projects and small ones. Our equipment is kept clean and well-maintained. We stay on top of industry-specific technology for best results and efficient work.
Say Goodbye to Winter Woes with a Snow and Ice Removal Plan
You know that winter in Bay Village can be tough. That's why we think you'll appreciate our commercial snow and ice removal services. Our team makes sure your parking lots, driveways, walkways, and sidewalks are clear and safe throughout winter. Commercial properties are our top priority after every winter weather event. Your residents, customers, and employees can rely on our trucks and snow crews to clear the way for safer driving and walking.
Our Commercial Landscape Maintenance Plans Are Available in Bay Village and Nearby Areas
MVP Snow n' Lawn is proud to offer commercial landscape maintenance services to these cities west of Cleveland:
Check out our Service Area page for more details about the commercial services we provide to Northeast Ohio properties, including apartment complexes and HOAs.
Join Our Professional Landscaping Team
Can you imagine yourself working on the MVP team? We offer our hard-working employees a friendly team environment that puts safety first. We also provide excellent employee incentives. See the Careers Page for current job openings.
Tell Us About Your Commercial Landscape
Ready to discuss a commercial landscape management plan for your Bay Village, Ohio property? Schedule your on-site consultation by giving us a call or filling out our online form. We make it simple to get the landscape care you need all year round.